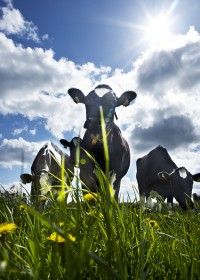 In Denmark, organic agriculture has for several years been recognized as a means to obtain benefits in terms of environmental impact, animal welfare and product quality in agriculture. Aarhus Faculty of Science and Technology (AU-SciTech) plays a major role in getting a better understanding of options and barriers for organic farming to comply with these expectations, and at the same time to be a viable options for farmers.
Thus high priority research areas are crop rotations in basic agriculture and vegetables supporting a high crop yield with low nutrient - and greenhouse gas emissions, methods for fruit production without pesticides, livestock systems (dairy, poultry and pig) with focus on productivity, environmental impact, animal health and welfare as well as managing monogastrics on free range, and the impact of growing and rearing conditions in organic farming on product quality, including content of active substances' assumed to impact on human health, sensory properties and functional properties for processing of food.
The strategy at AU-SciTech has been to include almost all research competences within food and agriculture for the benefits of research in organic farming. During the last 15 years it can be estimated that more than 50 researchers every year have had major activities within organic agriculture and many of the researchers are engaged in teaching, which ensures that the students have access to the newest knowledge in organic agriculture. Furthermore the students have excellent opportunities to participate in the many ongoing projects on organic agriculture as a part of their thesis work. In that aspect AU-SciTech has very good research facilities, including long term organic crop rotations, facilities for organic livestock keeping, and state of the art laboratories for investigating product quality. In addition AU-SciTech has a long tradition for making on-farm research within organic farming and hence a large network to draw on for relevant thesis work.