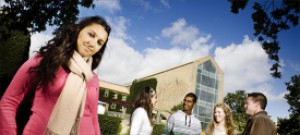 Aarhus University offers unique, alternative opportunities for research and education cutting across many different subjects, for the benefit of both students and researchers, as well as the authorities and the business community. These interdisciplinary combinations provide exceptional opportunities. Aarhus University combines quality in its services with diversity – a diversity that also makes sure that the university is in wide-reaching contact with all the important sectors of society. Aarhus University has an international focus and makes targeted efforts to attract researchers and students from abroad.
Research and education
Academic values form the basis for all activities at Aarhus University. Via curious research, critical analysis and ongoing debate, researchers and students endeavour to find new ways to gain insight, understanding and education for the benefit of society as a whole. The university consists of four main academic areas. Combined, they cover the entire research spectrum – basic research, applied research, strategic research and research-based advice to the authorities. In all degree programmes, research and education are closely connected, and the research-based instruction – including teaching that spans the main academic areas – ensures the depth of the degree programmes.
A visionary university
The mission of Aarhus University is to create and share knowledge on the foundation of its academic comprehensiveness and diversity as well as through outstanding research, the education of graduates with the competencies society demands and innovative engagement with society. By putting the latest knowledge to work Aarhus University assumes co-responsibility for the development of society, meets society´s justifiable demands and contributes to society´s continued growth and welfare. Aarhus University is a signatory of the European universities´Magna Charta. The university defends the research freedom of individuals and desires to maintain and develop a culture that promotes collaboration, critical dialogue, curiosity and the independent search for new knowledge and insight.