Admission criteria and application procedure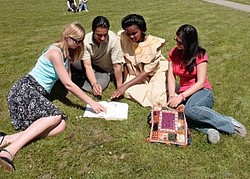 Students from all countries of the world can apply for the EUR-Organic programme.
Deadline for application is 15 March for non-EU citizens and 1 June for EU citizens.
When you apply for the EUR-Organic Master programme you must choose a home university. You will be enrolled at your home university and pay the tuition fee at this university during the entire two year programme (also when studying at the host university).
Hand in the required documents to the institution that you choose as your home university.
Please follow the link to the guidelines of the application procedure of your respective home university.
In 2018 you can choose the Aarhus University, University of Hohenheim and University of Natural Resources and Life Sciences, Vienna as your home university.
Please note that only a restricted number of students can choose ISARA-Lyon as host university.