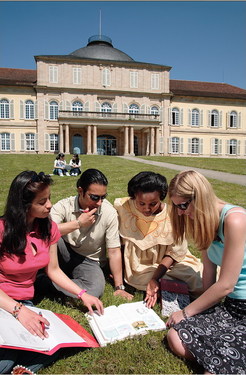 LEARNING AND LIVING
Students from around one hundred countries have come to appreciate the unique and friendly atmosphere at Hohenheim. Moreover, Hohenheim offers a high quality education through excellent teachers and staff. Students appreciate the close proximity of lectures and other facilities on the campus, as well as a wireless-LAN connection anywhere within the historic parkland. The modern lecture theatres and Scientific Centres are impressively stocked and the well equipped libraries have long working hours. The modern language centre and IT facilities are second to none. Excellent sports facilities and cultural events, along with many large and small parties and celebrations, all enrich university life
TEACHING AND RESEARCH
The Natural Sciences, Agricultural Sciences, Business, Economics and Social Sciences faculties offer an attractive range of courses in a wide and varied number of disciplines. Hohenheim researchers pursue innovative and international research towards continuing improvement in the quality of human life, in the fields of Health and Nutrition, Sustainability, Agriculture, Economics, Innovation, Service Management, and Communications.
AN OPEN NETWORK
Research Centres link the sciences and renowned Experimental Centres and State Institutes (Landesanstalten), which support the strong transfer of research and scientific knowledge. The University enjoys high regard amongst regional, national and international university networks, such as the Euroleague for Life Sciences. Progressive and family-friendly, Hohenheim attracts families with children, young people and adults wanting to discover more about current scientific issues through public courses and degree "trial" sessions.
CULTURE AND SPORT
Studying means more than just learning. Lively exchanges with colleagues, sport and culture. Student life means social contact beyond the confines of your course and faculties. Hohenheim has so much to offer on its campus.