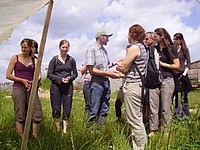 The joint start-up module is offered as the start of the programme and it is compulsory for all students who are enrolled in the double degree programme.
Outline of the start-up module: A one-week field course followed by an e-learning period and a final report, in total 5-6 ETCS.
The EUR-Organic Start-up Module 2018 will be organised by WULS and is scheduled to take place in the second week of September 2018 in the countryside of Poland.
Detailed information about the EUR-Organic Start-up Module 2018 (application, schedule, content, etc.) will be provided after your successful admission. However, travel to and from Poland has to be organised individually from your side. Fee to cover accommodation, food and transport during the Start-up Module will be around 200€ and charged in the beginning of the EUR-Organic Start-up Module.
The Start -Module 2017 took place in Rogów, Poland. Our base to explore the regional Polish Organic sector was the Educational Centre for Natural Forest Management in Rogów (http://cepl.sggw.pl/) located 114 km south-western from Warsaw. Impressions can be found here, here, here and here.

Impressions from the 2016 EUR-Organic start-up module, which took place in Górznieńsko-Lidzbarski Landscape Park in Poland.
The start-up module 2015 took place in September in Traunviertel, Austria organised by BOKU and hosted by the LWBFS-Schlierbach.
Joint start-up module 2013 - Impressions