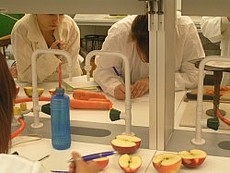 Main research directions of Organic Foodstuffs Division at WULS-SGGW are as follows:
quality of organically produced crops (vegetables, potatoes, fruit) - nutritive, storage and sensory values
potential impact of organically produced food on animal and human health
multifunctional rural development on environmentally sensitive areas
organic farming in Poland - functioning, legal rules and perspectives in light of the European Union
agricultural landscape and biodiversity – the role of organic farming
In our laboratory we conduct many food analyses, especially plant analyses – and also on various bio-compounds and vitamins. We can also conduct food sensory evaluations and rat experiments. To conduct properly analyses we have the following infrastructure in our laboratory: a high tech analytical laboratory: HPLC, spectrophotometer, freeze-dryer, deep freezer, centrifuge, storage chamber with cooling system. Apart from that we cooperate closely with an accredited sensory lab and experimental rat lab. In the field of organic farming in rural development we established Competence Centre of Organic and Multifunctional Agriculture where we offer advisory services on organic farming, agro-tourism, and other multifunctional activities of rural citizens. Organic Foodstuffs Division is an active member of FQH (Food Quality and Health Association) – vice-president: prof. Ewa Rembialkowska, ISOFAR (The International Society of Organic Agriculture Research) and IFOAM (International Federation of Organic Agriculture Movements). Our Division has been participating in EU projects regarding organic farming as well as in that from national financing.