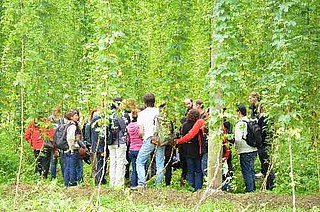 EUR-Organic is a joint Master programme of five partner universities:
AU- Aarhus University, Aarhus, Denmark
BOKU - University of Natural Resources and Life Sciences, Vienna, Austria
ISARA-Lyon - Institut supérieur d'agriculture et d'agroalimentaire Rhône-Alpes, Lyon, France
UHOH - University of Hohenheim, Stuttgart, Germany
WULS-SGGW - University of Life Sciences Warsaw, Poland
During the MSc programme all students will be studying at two different universities. The university where the student is accepted in the first year of the EUR-Organic is referred to as the home university. The university that the student chooses as second university will be referred to as the host university. As WULS-SGGW and ISARA-Lyon do not offer a full MSc programme in English yet, students can currently choose between AU, BOKU and UHOH as home university and between AU, BOKU, ISARA-Lyon, UHOH and WULS-SGGW as host university. The master thesis work has to be assigned to the host university, but has to be jointly supervised with the home university.