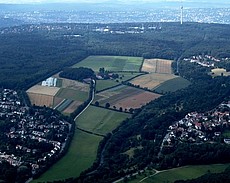 UHOH has a long tradition in research on Organic Agriculture: In 1973, an experimental research station was converted to organic farming, - at that time the first research station in Germany. Today, the organic experimental station uses two different rotations, and its close vicinity to the university provides excellent research opportunities. Most departments dedicate a substantial share of their resources to Organic Agriculture research including research activities on a national and international level. As the professors and assistants are involved in teaching, this ensures a direct transfer of the latest research results to the students.
Moreover, students are confronted with the current problems, and research questions of the sector. A bachelor or master thesis is often part of those projects, in many cases in collaboration with associations, processors or other actors of the organic sector. With the Master Course "Organic Food Chain Management" established in 2005, Organic Agriculture gained additional importance.
The different departments of the UHOH – mostly at the Faculty of Agriculture - are working on more than 40 projects related to Organic Agriculture. The following topics are emphasised strongly:
Socioeconomics of Organic Farming
Soil fertility and plant nutrition in Organic Farming
Crop protection in Organic Farming
Organic crop production
Plant Breeding in Organic Farming
Food processing spawned a close cooperation between the Faculty of Agriculture and the Faculty of Natural Sciences. Close teamwork between the two faculties is sure to continue and increase in the future. In addition, the Faculty of Agriculture places strong emphasis on sustainable land use and resource management in the Tropics and Subtropics. This opens up future opportunities for Organic Agriculture Research in the countries of the South according to their growing participation in the organic sector. Moreover, a variety of projects - especially in fundamental research - is relevant for Organic Agriculture in a indirect way as these projects try to elucidate mechanisms and connections e.g. in plant nutrition or phytopathology.